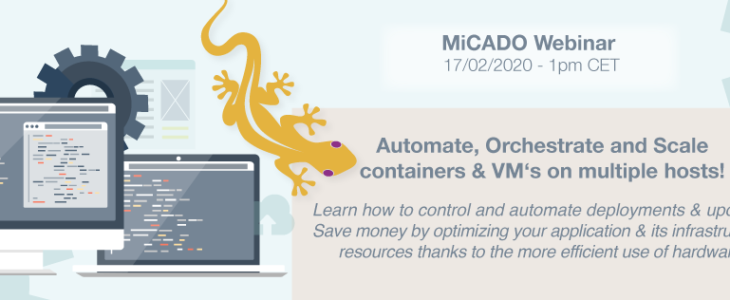 Webinar: Optimize your Business Processes with the Power of Cloud-Based Autoscaling
Cloud computing has the potential to provide resources on demand changing long term infrastructure investment costs with more manageable operational costs. As cloud computing is gaining more widespread take-up by SMEs and public sector organizations, the optimized utilization and automated auto scaling of cloud computing resources are also gaining increased importance.
What is auto-scaling and what can auto-scaling do for me?
But what exactly is auto-scaling? One example: If checkout lines at a store get too long, the store manager will open up new cash registers. When traffic piles up, the auto-scaling feature detects the increased load and launches new servers / containers from the cloud accordingly, and then spreads the load to them. Hence, cloud-based auto-scaling increases your application's reliability and speed and will help you save time and costs.
MiCADOscale Framework - security, scalability and automation
MiCADOscale, which will be introduced in this webinar, is an open source-based auto scaling framework, based on Kubernetes (K8) that supports cloud application developers and data centres when developing, deploying and operating scalable cloud applications. MiCADOscale provides highly customizable and programmable scaling policies at various (virtual machine and container) levels, and a standardized TOSCA-based application and policy description. Based on its audited security features, you can run and scale your application in almost every cloud in a secure and efficient manner. MiCADOscale was developed in the EU funded COLA project primarily by the University of Westminster and Sztaki and marketed and commercialized by cloudSME. This webinar will explain the motivations behind using an autoscaling and automated deployment and run-time orchestration framework for businesses and will highlight how MiCADOscale fulfils such role.
This webinar also wants to particularly address Digital Innovation Hubs and inform them about the options and benefits of MiCADOscale has for their network of SMEs. Therefore DIHs are particularly encouraged to participate.
Who should attend this webinar?
This webinar wants to particularly inform SMEs and DIHs about the options and benefits of MiCADOscale.
Date: 17th February 2020
Time: 2PM GMT / 3PM CET
Language: English
Components utilised in the MiCADOscale framework:
Docker Engine
Kubernetes
Occopus
(to scale VMs)
Prometheus
(for monitoring)
COLA in-house developed Policy Keeper
(to perform decision on scaling)
Submitter
(to provide submission endpoint)